Here is my selection of the most stylish, elegant or graceful batsmen of all time, selected in my order of merit. They simply took batting to poetic realms, with some inventing strokes of their very own. Very hard to separate many of them.
I apologise if I have left out some deserving candidates, who could well fit the bill. Batting artistry and inventiveness or creativity is also a factor considered.
David Gower
Simply poetry in motion taking batting aesthetics to surreal proportions. With a characteristic silken touch caressed the ball in the manner of a shepherd tending his flock, or a swan skimming the water.
His cover drives were absolutely flourishing. Even when hooking and pulling Gower resembled a concert pianist, with utmost ease dispatched great West Indian and Australian pace bowlers on their very own tracks.
His 72 at Perth in 1982-83,154 n.o at Kingston in 1981 and 215 at Trent Bridge Australia in 1985, were simply classics. Also batted like a champion in Pakistan in 1984 scoring 173 at Faisalabad and an unbeaten 152 at Lahore.
One of the most underperformed players who could have averaged over 50, if have done full justice to his potential.
Zaheer Abbas
No batsman looked more like a manifestation of the grace of the divine. Bisected the field in the manner of a sculptor carving a monument or a violinist strutting his strings. Timing of a musical conductor in an Orchestra, bringing his bat down at the very last moment when the ball looked like crashing through his gate.
In executing the same stroke he would move forwards and backwards. Had an appetite for big scores in the Bradmanesque mould. Zaheer Abbas reminded one of a violinist strutting his strings.
No one was a better exponent of the drive on either side of the extra cover. No batsman ever was more dominant on flat tracks. Sadly, not at his best facing express pace being deterred by the bouncing ball.
My finest memories of his are his 274 at Edgbaston in 1971, 240 at the Oval in 1974 and his plundering 583 runs at home v India in 1978-79 and 750 runs at home against India in 1982-83.
With his mastery of improvisation, he was amongst the best-ever ODI batsmen, averaging above 44, his knock against West Indies at the Oval in the 1979 world cup semi-final, was simply a masterpiece.
Frank Worrell
Resembled a pianist when batting. The epitome of batting perfection in all types of conditions. Even when pulverising bowlers, respected a cricket ball with the grace of a Buddhist monk.
The most defining cricketer of his day and age, leading the renaissance in West Indies cricket. No one better symbolised cricket as a Gentleman's game or took cricketing grace to such realms.
His 197 n.o at Trent Bridge and 261 at Old Trafford were the equivalents of monuments to the game. Very prolific in 1st class cricket averaging over 54 and averaged almost 100 on the Commonwealth tour of India.
Part of a landmark partnership with Clyde Walcott of 574 in 1948 and earlier 502 with Trevor Goddard.
Ranked at 3rd spot as he was not as inventive as Gower or Zaheer Abbas, and not at his best against short-pitched deliveries.
Ranjitsinghji
To the art of batting virtually to a new dimension, introducing the late cut and leg glance, as well as the art of back-foot defence. No one was a better exponent of backfoot play.
In 1896 at Old Trafford when compiling 62 and 154 took batting art to surreal regions. In the 1871 season, he aggregates 2871 runs, surpassing W.G.Grace's previous record.
In 1897 at Sydney, He scored 175 when feeling unwell and in 1899 became the 1st batsman to score over 3000 runs in a season.
Denis Compton
No batsman looked more like a ballad dancer or a theatre artist when batting as Compton combined with the inventiveness of a magician. Although unorthodox, he challenged great bowlers better than any contemporary batsman, averaging over 50.
One can't forget how he literally danced down the track to punish bowlers and his magical lofted sweep. Explored regions in batting that were surreal.
Record run aggregate and no of centuries for a single English first-class season, scoring 3816 runs, scoring 18 centuries in 1947.
Gundappa Vishwanath
Took artistry to untranscended areas, executing strokes that were reminiscent of a musical composition. Vishwanath's strokes reminded you of a Rembrandt painting.
His square and late cut and combined hook, pull and flick stroke was his very own invention. A master against express pace or on fast wickets and on bad wickets as majestic as the very best.
Above all championed a crisis like very few of his era, with India never losing a match when Vishy scored a century.
When scoring an unbeaten 97 at Madras against West Indies in 1974-75 and 124 against them in 1978-79 on the same ground, he too had all-around batting skill to heights rarely scaled.
When scoring 78 and 79 in overcast conditions in Dunedin in 1975-76 and when scoring 114 out of 237 at Melbourne in 1980-81, he proved his true metal on any type of surface and situation.
Mercurial with the explosiveness of an inferno, but retained his god-gifted grace. No left-hander took inventiveness to a mythical region.
In full flow resembled an emperor addressing a parade. With his high backlift, no batsmen looked more pompous in full flow. Turned the fortune of games like none did in his era, including Tendulkar. I can never forget his pulverising whip shot or drive through the covers.
No batsmen of recent times championed the cause of a weak batting side to such an extent, had such an appetite for mammoth scores to such an extent or had as a high an average percentage score of the team's total.
At his most sublime touch when scoring 277 at Sydney in 1992-93,211 at Kingston and 153not out at Barbados against Australia in 1999. While congratulating his path-breaking landmarks when scoring the record 375 and unbeaten 400, I do not rate them amongst his 3 best innings.
Mohammad Azharuddin
Close to a reincarnation of Ranjitsinghji. In spite of possessing awkward technique and loose footwork, took artistry to surreal dimensions with his leg glance.
He could also look majestic when driving and cutting, with his sheer touches mesmerising the best of bowlers. Azhar resurrected oriental batting artistry.
Few batsmen ever made such a sparkling start to their test career as Azhar, who scored centuries in his first 3 tests against England at home. Not classically correct and possessed lazy footwork like Gower.
When scoring his 121 at Lords in 1990 and 158 at Old Trafford exuded the grace of a Ghazal singer, virtually never seen in England by an overseas batsman. Although at times circumspect against pace, he played some of the finest innings against challenging pace attacks of Australia and South Africa. and Pakistan.
Few batsmen tackled Imran Khan so assertively as Azhar did at home in 1986-87 and away in 1989 or tackled the likes of Alan Donald with such consummate ease in 1996-97 in the 2nd test. In many ways re-defined the oriental batting artistry.
One of the best ODI batsmen, with his brilliance in manipulating the gaps and improvising.
Ted Dexter
Resurrected the Golden age of English cricket. Few ever dominated great pace bowling with such subtle grace or were more effective in a crisis.
Overshadowed even the likes of Peter May and Colin Cowdrey, at his best. Few batsmen ever took apart pace bowling more majestically or reflected more surety or composure in adverse conditions or in a crisis.
Averaged 47.89, scoring 9 centuries and close to 5000 runs. At his best when scoring 73 at the Oval in the 1960s.
Also prolific on a tour of the West Indies in 1959-60 where he averaged above 55, including a classic century at Barbados. Rare to see a batsman ever take apart Wes Hall so effortlessly.
Rohan Kanhai
Took batting genius to heights unscaled, resembling a musical composer. Few ever looked more than a manifestation of the divine. Kanhai had a unique falling hook shot.
Traversed regions in batting which even Bradman did not, in view of writer C.L.R James. Surpassed Gary Sobers for sheer batting prowess or maybe even Sir Vivian Richards. A master on any type of pitches who could win games and bat for your life.
On his day mesmerised by the best of bowling attacks like when scoring 116 at Perth in 1971-72 facing Dennis Lillee, 252 against Victoria in 1960-61 and scoring back-to-back centuries at Adelaide in 1960-61.
Had he done justice to his talent would have averaged close to 60.
VVS Laxman
The silken or sublime touch of a weaver. Executed some of cricket's masterpieces to resurrect India from the grave to reach the pinnacle of glory.
Few batsmen could ever play the ball so late or initiate such a late change in stroke or were more effective in 4th innings run chases. His strokeplay was reminiscent of constructing arcs on a board, or a boat gliding.
Unorthodox, but on his day could be as innovative as the very greatest batsman. The manner he simply dropped his bat down was a manifestation of cricket's poetry.
With Rahul Dravid, he turned more games for India than any player in his era and was the best Indian batsman with the tail.
When scoring 281 at Kolkata against Australia in 2001, took batting skill to regions rarely explored and in a 376-run partnership with Rahul Dravid, set up a miraculous victory for India.
In Australia in 2003-04, combining both forms of cricket surpassed any Asian batsman till then, including mammoth partnerships with Rahul Dravid and Sachin Tendulkar.
Lawrence Rowe
Had the innate ability to be the best ever West Indian batsman, with the technique of the highest class. When on the song, the flow in his strokes resembled a swan cruising through the water or a lark singing.
Viv Richards, Garry Sobers and Michael Holding rank him technically the best West Indies player they ever saw.
When scoring 302 v England in 1974 took virtuosity in batting to realms rarely explored. Also, the first to ever score a double century on his test debut, which he accomplished against New Zealand at home.
With great flourish dealt the Lillee-Thomson duo at their fastest in 1975-76. Even in WSC supersets exhibited his wondrous touch.
Rohit Sharma
The most stylish batsman of the contemporary era, possessing the improvisation of a magician. Not at his best in test cricket but in ODI's close to the best opening batsman ever, breaking the highest score record twice.
Even when launching a demolition job holds the bat like a wand, giving the sensation of an orchestra playing. Caressed the bowling in the degree of a Lara. Gower or Vishwanath, possessing every shot in his armoury.
For this day and age, it is simply a remarkable virtue, with the game losing its poetic element. One of the great match-winners of the modern era.
Sadly not done justice to his talent in test cricket.
Martin Crowe
The most complete batsman of his day and age whom Wasim Akram rated the most difficult and most organised batsman he ever bowled to. They flourish in his strokes resembling a ballad dancer.
At his best on bouncy tracks of Australia and West Indies where he scored 188 at Kingston in 1985. Topped the run aggregate and averages in the 1992 world cup in Australia.
On Australian surfaces averaged a remarkable 66. A major architect of the Kiwis registering their first series win in Australia in 1985-86, as well as New Zealand being such a dominant force at home.
In my view would have averaged over 50 had he done justice to his true potential. One of the best-ever batsmen representing a weak team. Averaged 55.5 in tests won, and his 299 v Sri Lanka was the highest score ever by a Kiwi batsman before Brian McCullum surpassed it in 2014.
Majid Khan
Talent or natural genius in the class of the very best of all. On his day Majid flowered like a lotus in full bloom and was the best batsman of his day on bad wickets.
Noone executed a hook shot with as much feline grace as Majid, who was up there with the very best against genuine pace. Very rare to see batsmen tear apart an attack with such contempt but never at the cost of poetic grace. Minimal footwork but razor-sharp reflexes.
His 156 on a broken wicket in 1969 at Swansea against Glamorgan took cricketing skill to regions rarely scaled. Few knocks have been more cavalier than Majid's 88 ball century in the 1974 prudential Trophy game at Trent Bridge or few more gallant than Majid's match-saving 167 at Georgetown in 1977.
Alvin Kalicharan
Rohan Kanhai the other way around. A great player of both pace and spin with more organised technique than any left-hander.
When taking Lillee to the sword in the 1975 world cup scoring 78 of a mere 35 deliveries took batting domination to realms that rarely transcended. Few left-handers ever tackled the Lillee-Thomson duo with such consummate ease.
No Calypso batsman tackled spin bowling as adeptly as he displayed at Bangalore in 1974 when scoring 124 when scoring a century at Trinidad against India in 1975-76. or when scoring 187 at Mumbai in 1987-88.
At one stage averaged above 56 and looked set to becoming the world's best batsman. Sadly his form declined after 1977.
Greg Chappell
Simply an epitome of elegance and perfection with a typically English style. A master of the flicked-on drive and few could ever be more majestic in the domination of bowling attacks.
When scoring 131 at Lords in 1972 resurrected memories of the Golden age of batting and when scoring an unbeaten match-winning 124 in 1977 prudential Trophy took batting prowess to regions rarely scaled. Few ever looked better groomed when batting. In the 'v' simply a master.
Mark Waugh
Absolutely classical or majestic on the on-side, with an almost feline touch. When pitted against the finest pace bowlers and the hardest pitches, would come out on top. He exuded grace more than any Australian batsman in the last 3 decades.
More naturally talented than his brother Steve, and could often overshadow on fast wickets. In terms of pure game in the Tendulkar-Lara class.
Can never forget his classical 124 at Durban in the 2nd test in 1997, on a wearing pitch, to win a game. And his 139 at Antigua in 1991.
Also mastered the turning tracks in India, like when scoring 154 at Bangalore in 1998.
Damien Martyn
Personified grace as few ever did in modern times, with his batting a manifestation of poetry. After an initial setback in 1994, he bloomed into a classical artist with the featheriest of touches.
No Australian batsmen took artistry to such a scale in recent decades. After a period of loss of form, aggregated 1608 Test runs at an average of 61 and won two Man-of-the-Series prizes from March 2004, which got him back into the reckoning.
Displaying his great prowess, he carved seven centuries on turning pitches in India and Sri Lanka to green tops in New Zealand to the fast wickets at home.
Was an important factor in Australia turning into a side of world-beaters.
Mahela Jayewardene
A master of touch art. Even when tearing an attack apart, exuded the vibrations of a lark singing. In the age of commercialism re-introduced poetic grace to the game.
Played a major role in shaping Sri Lanka into major cricketing power. A master when the chips were down or in tackling bad wickets.
Came within touching distance of the world record score when registering 374 in Colombo. For a considerable period averaged over 50, but just dipped below 50 towards the culmination of his test career. His century in the 2007 world cup semi-final against New Zealand was classic.
Scored considerably better at home than away, but still scored some of the finest knocks in testing conditions.
Kumar Sangakkara
Hoarded a booty of runs like an emperor plundering territory over territory but still exuded subtle grace. His cut and pull were simply a treat to watch as his flowing drives. Could turn the course of games as almost no one could, in his day and age.
Statistically the best of all left-handed batsmen averaging over 57 and aggregating over 12000 runs. Involved in the world-record partnership of 624 with Mahela Jayewardene for the fourth wicket, and even surpassed the run aggregate of Brian Lara. His 192 in Australia in 2007 in a 4th innings chase was a true gem.
Babar Azam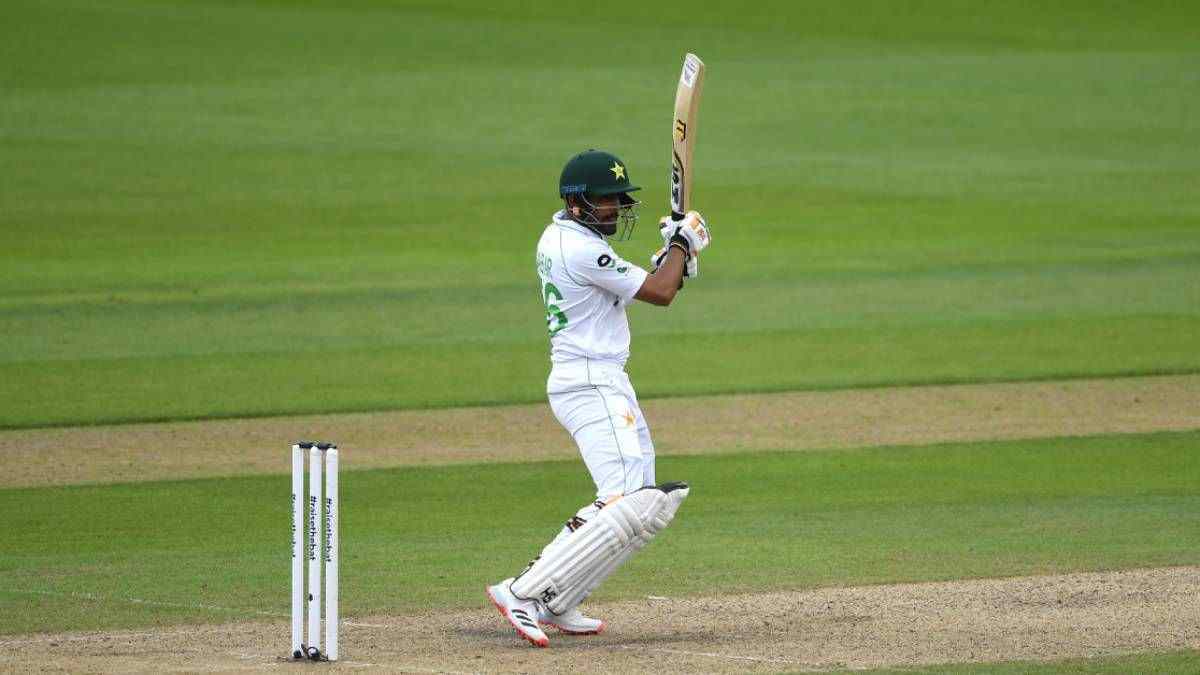 An absolutely class act in full flow like poetry in motion. A champion in resurrecting a team from adversity with a characteristic silken touch and flow of stream water. Few executed a more polished-off or cover drive.
A prodigy of Zaheer Abbas. ESPNcricinfo brackets him among the most stylish Pakistan batsman of all time alongside Majid Khan, Zaheer Abbas and Mohsin Khan.
Averages less than 50, but his centuries and fifties have turned the course of games like few in the modern age. Above all prolific in all types of Cricket. His 196 score in the 2nd test v Australia a few days ago was a classic, resurrecting his side to safety from the jaws of defeat.
Saeed Anwar
He could be as flamboyant or swashbuckling as anyone but caressed bowling even when being most mercurial. Amongst the best of match-winners. Equally effective on fast, seaming or turning pitches.
On his day blazed away like Brian Lara, when scoring an unbeaten 188 at Kolkata in 1999 or a then-record 194 in an ODI in 1997. I can't name a left-handed opening batsman whose strokeplay was more poetic. Few could launch the equivalent of a combing operation with the oriental Asian touch.
Averaged around 45 but had the potential to even average over 50.
Hashim Amla
Would occupy the crease like running a marathon with an unorthodox style but still, his batting had an essence of grace and an element of wristiness. Instrumental in shaping South Africa as the world's leading test team, flourishing in any condition. Amongst the most unselfish and gentlemanly players. One of the best performers in a crisis
Remarkably at one stage the only batsman to average above 50 in test matches and ODI's. Scored a 300 at the Oval in 2012 as well as a century at Lords which was instrumental in South Africa winning the series and claiming the world test championship.
At the very end, his test average dipped to under 50. In 2007 India simply plundered runs, aggregating 307 runs in 3 tests, including a classic 159 at Chennai. His century at Lords in 2008, was also a classic and his 196 at Perth in 2012-13 enabled the Proteas to win the game and retain the world test championship.
Saleem Malik
Posessed characteristic oriental grace when driving, cutting or pulling and was a master in a crisis. I loved to watch the manner he danced down the wicket to dispatch deliveries over the rope. With great ability to improvise, brilliantly manipulated gaps. One of the best batsmen on bad pitches.
At his best on the England tour of 1992 when he topped averages and enabled Pakistan to win their 2nd series in England. At Leeds in a losing cause in 1992 batted majestically in overcast conditions, where on the same ground in 1987 he compiled a classical, match-winning 99.